Sunday, October 29, 2017
President Donald J. Trump Fights for Higher Wages for Hardworking Americans — ANALYSIS
After seeing President Trump's "read more" tweet about how American households will take home $4,000 to $9,000 more a year, we were intrigued and clicked on the link (45.wh.gov/MXFfP9) provided. That took us to a White House "For Immediate Release" document put out by the Office of the Press Secretary. We felt it important to review in detail.
We analyze highlighted passages following the article.
President Donald J. Trump Fights for Higher Wages for Hardworking Americans

"Lower taxes on American business means higher wages for American workers, and it means more products made right here in the USA." – President Donald J. Trump

PAY RAISE FOR AMERICANS: The tax relief and tax cuts supported by President Donald J. Trump will boost wages for hardworking Americans.

The average American household income could increase between $4,000 and $9,000 a year in wages and salary alone by cutting the Federal corporate income tax rate from 35 percent to 20 percent, according to an

1

analysis by the Council of Economic Advisors (CEA).
Wages and corporate profits used to grow at nearly the same rate, but that is no longer the case. In the last eight years, wage growth has stagnated while corporate profits increased by an average of 11 percent per year, according to an analysis by the CEA.

INVESTING IN AMERICAN JOBS: The Unified Framework for Fixing Our Broken Tax Code supported by President Trump will 5end the "offshoring model" as companies will bring profits back and invest in American workers.

In 2016,

6

a Federal corporate tax rate of 20 percent could have brought more than $140 billion in corporate profits back to America, according to an analysis by the CEA.

Those profits could have helped boost the incomes of U.S. households.

Our current uncompetitive corporate tax rate encourages U.S. firms to keep profits offshore.
Last year, more than 70 percent of foreign profits earned by U.S. firms were kept offshore, up from 42 percent in 1984, according to an analysis by the CEA.

Companies hold an estimated $2.8 trillion in earnings offshore, according to Audit Analytics.

Cutting corporate tax rates will encourage firms to invest back in the United States, creating well-paying jobs for hardworking Americans.

8

After President Bush's 2003 tax cuts, the economy created 7.8 million jobs over five years, based on data from the Bureau of Labor Statistics.

9

After President Reagan's 1981 tax cuts, the economy created 14.8 million jobs over five years based on data from the Bureau of Labor Statistics.

TAX CUTS AND TAX RELIEF: The Unified Framework supported by President Trump will mean 11hardworking Americans can keep more of their money.

Double the standard deduction so that more income is taxed at zero percent.

The first $12,000 of income for individuals and $24,000 for married couples will be income tax-free.

Lower individual income tax rates to: 12 percent, 25 percent, and 35 percent.
Increase the Child Tax Credit and expand it to benefit more middle-income families and eliminate the marriage penalty.
Create a new $500 tax credit for those caring for an adult dependent or elderly loved one.
Passage and analysis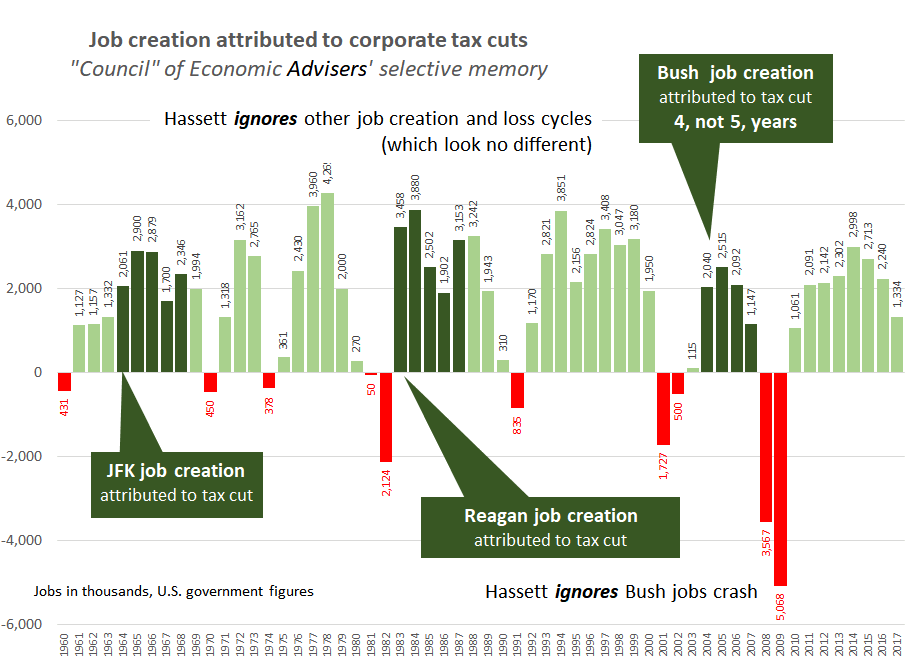 CEA's Hassett cites only data that fits, invents "five-year" benefit, and ignores the cyclical nature of economies
Hassett's analysis is telling in terms of significant omissions, that is, he ignores positive cycles of job creation which he can't match up with corporate tax cuts.
The economy generated 12.6 million jobs in four years, 1976–1979, during the Ford and Carter administrations. Unfortunately, job creation dwindled to 270,000 in Carter's last year. That paved the way for Reagan(omics) and the institutionalizing of supply-side economics as political dogma.
15.5 million jobs were created under the Obama administation, which rescued the auto industry over the objections of many Republicans, and pursued tax policies aimed at benefiting workers and small businesses — not multinational corporations, which by Hassett's own admission have been growing at 11% per year.
The reality is that:
economies run in cycles — they always have, always will,
corporate tax cuts do not increase hourly wages,
corporate tax cuts do not generate jobs,
corporate tax cuts do not generate investment — they mostly generate increased stockholder dividends, executive bonuses, and stock buy-backs[7], and
the average hourly wage has not increased in spending power in forty years, and companies like Walmart pay poverty wages.
Lastly, while the average hourly wage has neither gained nor lost in spending power over the past four decades, the minimum wage has lost $2.29 per hour[8], 24% of its purchasing power, yet there are those, Hassett included, who advocate that the minimum wage should not be raised.
It's misleading to project multinational corporation profit repatriation based on a 25-year-old study produced well before the acceleration and sophistication in keeping profits offshore, let alone corporate inversions — where a mere 20% ownership by a foreign company is enough to move headquarters abroad. And it's irresponsible to incur an additional $1.5 trillion in projected debt to fund tax cuts whose benefits will only worsen the economic divide. Working American will be standing at the end of the line, hoping for economic handouts, hoping any are left.
Read more
Hungerford, Thomas L.. Corporate tax rates and economic growth since 1947, Economic Policy Institute, 4 June 2013. LINK
---
| | |
| --- | --- |
| [1],[2] | Sachs, Jeffrey D.. Real Wages and Unemployment in the OECD Countries, The Brookings Institution. LINK |
| [4] | Adjusted for inflation, today's average hourly U.S. wage is no higher than it was four decades ago. The average hourly wage was $5/hour 40 years ago. That $5 is worth $21 today, meanwhile, the average hourly wage is now $22. |
| [5] | At the Center on Budget and Policy Priorities, Huang, Chye-ching et al. Corporate Tax Cuts Skew to Shareholders and CEOs, Not Workers as Administration Claims, Center on Budget and Policy Priorities, 16 August 2017. LINK |
| [6] | Peterson, Kristina. Report: Repatriation Tax Holiday a 'Failed' Policy, The Wall Street Journal, 10 October 2011. LINK |
| [7] | Goldman Sachs has estimated that S&P 500 companies would use three quarters of repatriated profits to repurchase stock. |
| [8] | Minimum wage of $7.25 today versus $2.30 in 1977 valued at $9.54 in 2017 dollars. |